Having eight children living in one house can be very hard on books. Most of our first readers are torn up, mangled, or even trashed. I was thrilled to learn we would be getting some new ones from
Academic Success
. It was a chance to bring some new books into the house that the littles could read, or soon read.

I was honestly a little disappointed when I opened the box of books. These reminded me of the little readers my kids got when they were in public school. Not that those are bad, but they are little paper books, not something that holds up to multiple readers, or has a great shelf life. But, we opened them up, and I give them out in small doses to the littles and let them read.
They love them. Terry and Paulee are both reading three letter words, or simple 4 letter words very well. And these are books they can actually read. However, the books start with words using long vowel sounds, and phonics concepts that are usually not taught until later in beginner reader curriculum. I just told my two what the word or words were that they didn't know how to sound out yet, and they remembered it for the rest of the book.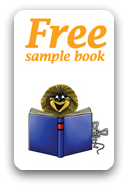 Terry and Paulee love reading a book to themselves. Or even to their two younger siblings. They like the questions at the back of the books we ask them, and enjoy being like the "big kids". I liked that they are color coded, and well number for sequence.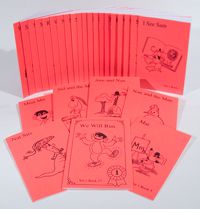 There are 8 different book set ranging from Kindergarten levels to third grade, and
each set is $30
.
Beth
I received this product for the purpose of review. All opinions expressed are my own. For other reviews, please visit the Homeschool Crew Blog.