Today, I have another review. It comes from
AIMS Educational Foundation
; a
non-profit
foundation geared to help teachers give students a firm grasp of math and science concepts. I cannot even begin to tell you of all the hands on curriculum they offer. The
catalog
is just chalked FULL of ideas!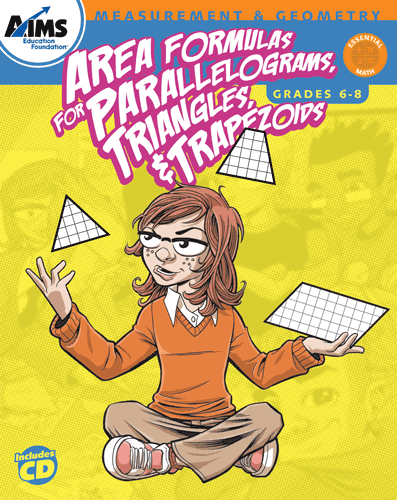 We were sent the
AREA Formulas for Parallelograms
. It looked like fun, so we began looking through it. This supplement is geared towards students in grades 6-9. I have a sixth grader and an eighth grader, so we were excited to try it out. My son, the eighth grader, wasn't too impressed with the book. Oh, he liked it. It was okay. But he is so logical. He is the child that reads the math book for fun, and rarely needs any further instruction or explanation. He just "sees" math. So, while he liked the comics in the book, he wasn't actually learning from them. They were just fun.
My daughter, on the other hand, is COMPLETELY different. She is the child that has to do 50 math problems before she really masters it. Repetition is the key. And being able to manipulate, and put her hands on it. And this is perfect for her. Being able to cut out shapes, turn them, fold them in half, put them all together, and make sense of all the formulas that are thrown at her. This was an AH-HA kind of moment for her.
Our next child is in fifth grade. He is a artistic, and very visual. And often draws his own comics. I can't wait to see how this book helps him. I can't imagine it will be anything less than a wonderful fit.
The book comes with a CD, and be
purchased
from AIMS for $9.99. There is even a sample of the book
here
.
*This book was sent to me for the purposes of review. The opinions expressed are all mine. To read other reviews, visit The TOS Crew page.
Beth