I plopped down on my couch. I was tired, cranky, exhausted, and sick of my daily routine. The dishes from last week's dinner were still all over the counter, the dirty laundry was soon going to eat me alive if I didn't do something with it, and our children avoided me for fear the screaming banshee would return. As I sat there that hot, miserable night, I was hit with the reality of what I had become. And I didn't like me.
After much time spent crying out to God, I picked up a book recently delivered to my house. Titled,
How to have a H.E.A.R.T. for Your Kids,
I began reading. And it struck the chords of my heart. Showing me how inward my sight had become. How I was only caring about myself. My wants. My needs. I saw my family as a burden. And I needed to change.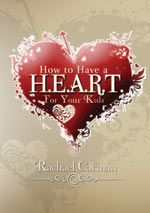 From the first paragraph, author Rachel Carman was telling the story of her heart, and speaking directly to mine. It was as if she had stepped into our home, observed me for a few days, and this was her assessment.
Mrs. Carman takes the letters of the H.E.A.R.T. acronym and expounds each into its own convicting chapter. After marking, notating, highlighting, and dog earring nearly the entire introduction, I hit chapter one thinking my hand might get a rest. But I was so wrong. Each chapter was just packed with wise council and drove me back to my knees. I was encouraged through Mrs. Carman's experiences and through scripture after scripture upon which she shone a light. I was also challenged by the Heart checklist found at the end of each chapter. Through it all, I was reminded my world, my children, my husband are not my own. Nor does my world revolve around me or my family. Not even partly. I had to give my whole heart back to God. I had to die to my self, so I could live abundantly in Him. Then, I could have a H.E.A.R.T. for my children.
If you would like to experience
How to Have a H.E.A.R.T. for Your Kids
for yourself, it is available for purchase through Apologia for
$13.00
. You can read a
sample chapter
, to experience the book for yourself. Visit
Apologia
to see a whole line of resources designed to encourage and strengthen homeschooling families.
Beth
As a member of the
TOS Crew
I was given a copy of this book for review purposes. I was not paid to write this post and my opinions are my own.