While I am a computer junkie (but not to be confused with a techie), my children are pretty restricted when it comes to computer time and content. So when I was given the chance to review
Big IQ Kids
, I was excited and a little reluctant.
Big IQ Kids
is an educational website offering to enrich your child's schooling. They offer programs in Spelling and Vocabulary, Math, and U.S. Geography. You can sign up for
free memberships
to these programs, or you can sign up and pay for
premium membership
and access additional content in the Math and U.S. Geography programs. There is also a premium membership offer for a Spelling Junior program. The memberships can be as low as $3.33 a month if you buy a full year at a time, but they do offer monthly rates as well.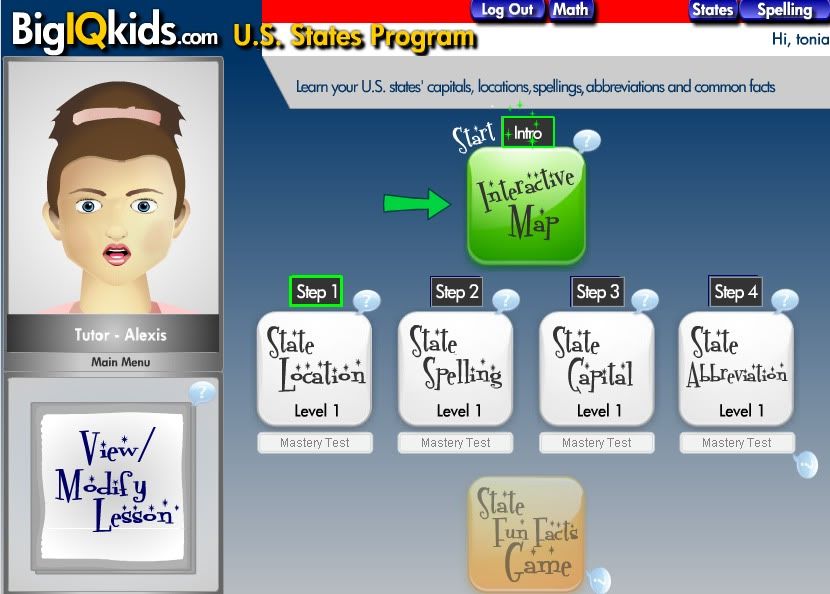 So, what did we think? My kids love the site. They run through the lessons quickly, enjoy answering the math problems, and shout out state facts to each other as they learn them. Plus, as they finish lessons, they receive coins that can go to buy "game" time. The games may or may not be educational, it just depends on the game. But it is a great incentive to do the lessons. My kids line up to get time on Big IQ, and are always sad when their time is up.
I personally have things I like and don't like about the site. I see that it is great for visual learners. Or for children that need incentives. The lessons are highly modifiable (Modifiable? Is that even a word? Shhh....I'll look it up before I add it to any vocabulary list in our homeschool), and no lesson can be skipped. This is a great way to get in extra proficiency work without boring your child to death with thousands of worksheets. And, with the premium membership, you get updates emailed to you with everything your child did while on Big IQ.
The site is a little hard to navigate around at times. And the emails get a little redundant after awhile. You get one for each accomplishment or for each wrong answer. Not a summary of the day. It can fill up the email box quick. There is so much that can be personalized, that I often feel we may be missing something. But with time, that may just work itself out.
If your child is not homeschooled, this site is still an asset to your child, and can even be used in a large classroom setting. Overall, the kids are enjoying the site, and it is reenforcing what we are teaching in their core curriculum. We will continue to use our premium membership for the year as an incentive for good behavior and hard work in school.