Over the past month, I have had the privilege of reviewing
E-Mealz
, a resource for busy moms who still want to put a yummy meal in front of their family at the end of the day.
What is E-Mealz?
E-Mealz is like a menu planning central for moms who really need help with planning their dinner time menus. The site provides you with meal plans that are complete with recipes, grocery shopping lists that are printable, and more.
How Does it Work?
You choose the store. They provide the plan! Each week you will receive a brand new plan with a complete grocery list organized by sections. Each meal plan is
ONLY $1.25 per week
!!
There are over 20 meal plans for you to choose from:
diet specific: low carb. gluten-free, portion control, vegetarian, or a regular diet
shop specific stores: Kroger, Aldi's, Wal-Mart, Public's, Ralph's, or choose any store
They even have plans for just two people!
Here is what a sample menu plan looks like: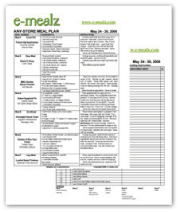 While this is a good program, there were a few things that I wish were different.
~There is no way to substitute meals: What's on the menu is there. You don't have the option to change out a meal if your family does not like the ingredients. You can leave it off, but if you are new to menu planning, then this might pose a problem. For someone like myself who is a seasoned menu planner, I knew I could just fill it in with a meal from my own base of menu plans.
~You can only change your meal plan option once: This was a little aggravating for me, because I first chose "any store" when I signed up because I live in a very small town–20 or 30 minutes away from most Wal-Marts and Aldi's. The any store was okay but then I chose the Wal-Mart menu and after that I was stuck with it.
~It just doesn't work for a large family: Unless I double up the family sized plans or go with the special occasion plan, there isn't a working plan for us. Plus, we don't consume very many processed foods, and I found myself trading many things.
All in all this was an okay program that I think works best for a new menu planner. Like I said, I do wish it gave you the option to switch out each night's dinner plan with a different dinner plan, but other than that–I give it two thumbs up!
Beth
I received a complimentary subscription in order to write my review for the TOS Review Crew. All opinions are my own.