A new word game has entered our house. We love word games around here. Malcolm's Kindle is loaded with about 10 different games, there is lots of Scrabble played in our house, as well as BookWorm. So when the Scruble Cube showed up at our house, it was game on.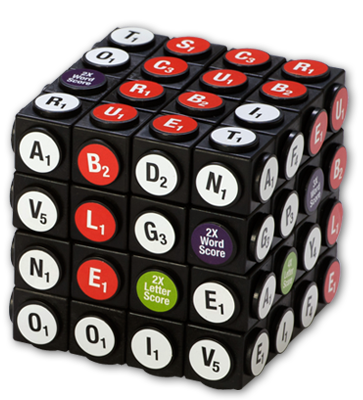 If cube is like the love child of Scrabble and the Rubik's Cube. And then it took some steroids. I cannot even begin to tell you the gaming potential here. Malcolm enjoys playing by himself, and I often find the other kids playing with it trying to work out bigger words. It promotes itself as appropriate for ages 8+. My eight year old gets extremely frustrated with it. He doesn't quite "see" the 3 dimensional aspects of the game, and gets very mad nearly all the words he can find are 3 lettered. My 10 and 11 year old enjoy playing together. They are pretty well matched in their vocabulary, and if they spell a word wrong, the other one assumes it to be right. Playing with Malcolm, who is 13, and a human dictionary, you better bring your spelling game. He's like the Spelling Nazi!
Not only is this a vocabulary builder, but I think it is a fun tool to help those prepping for ACT/SAT, or other college entrance exams. You are always trying for the next bigger, better word, and is addicting!
The
website
is extremely helpful, and beneficial. Especially for people who cannot keep up with the rule sheet.
*ahem*
There are tons of ideas for play and use. Videos to help explain the game, and a place for educators. You can buy one for your family for $24.95, and I think it would make a great Christmas present.
Beth
This product was sent to me for the purpose of review. The opinions expressed are mine. For more reviews, please check out the TOS Homeschool Crew review site.