One of my favorite things we do in our school, is learn Latin. I know, that sounds crazy. But it is one of our frivolous extras. Well, maybe not frivolous, we are very science orientated family, but an extra non-the-less. We have been using a simple curriculum from
Memoria Press
for the last year or two, but were recently asked to try a more in depth program also from Memoria Press. I jumped at the chance.

Soon, a decent sized box arrived FULL of wonderful learning goodness. And as I began looking through the workbooks, CD, DVD, and flashcards, I began to panic. There was NO WAY we would be able to handle this! I borrowed some big girl panties, and dove in head first.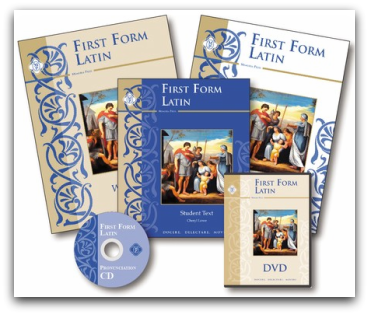 Memoria Press:
First Form Latin
is actually an easy to use curriculum that a beginner can utilize. It is a complete beginner Latin course for students fifth grade and older. I have a fifth, sixth, and eighth grader whom I used this with. The kids LOVED the DVD aspect of the course, as did I. Most all of the instruction given comes from me, so to get a different "teacher" was a nice break for them. I kinda liked it too. I could affirm my thoughts on the lesson, or learn the correct lesson, and I didn't always have to be "on" for Latin. There are multiple worksheets per lesson, which gives ample practice time for the kids. And of course they listen to the vocabulary and grammar lessons everyday, thanks to the CD. They study for quizzes and tests together using the provided flashcards, and I use them while doing laundry or cooking dinner to keep up with what the kids know.
You can purchase First Form Latin for $55. After having the DVD and flashcards, I would highly suggest paying the $115 for the First Form Latin PLUS. I know you could make the flashcards yourself, but the DVD really is worth the money.
And one more silly endorsement; I LOVE the
teacher's manual
. It is spiral bound, and TOP FLIP! I'm really not too sure why, but I just like it! It would have been nice if the students manual was spiral bound, but that may come from my odd aversion to breaking the spine of anything. Book. Workbook. Animal. Whatever.
This is such a great program. So much so, that when we finish up our current course, we will move into Memoria Press: First Form Latin
Beth
This product was sent for the purposes of review. All opinions stated are mine. For other reviews check out The TOS Homeschool Blog.