What is ALEKS?
ALEKS stands for
A
ssessment and
LE
arning in
K
nowledge
S
paces. ALEKS is an online program that acts like a math tutor for children in grades 3-12. ALEKS uses artificial intelligence to adapt the questions to discover what a student knows and doesn't know. ALEKS then has a starting point in which to use to perfectly adapt math lessons for each individual student. As a student spends time on the
ALEKS site
, they will be periodically reassessed to make sure they are retaining what they've previously learned.
Once your child goes through the initial assessment, you can see something ALEKS calls "My Pie." It is divided up into sections and you can see the concepts your child already knows and the concepts they need to learn. From here you can click on the topics and work through the lessons.
This is a pretty decent online math supplement program. However, it is not one that fits well with our family. We just do not use online school programs well. That being said, I could see how this would be a good product for families that need extra support in math, or for a student that needs extra practice. It could also help find weaknesses in your child's current math curriculum, or gaps that they may have.
ALEKS is offering a two month trial offer so you can see for yourself if it is a program that matches your families needs!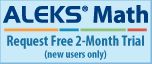 Beth
I received a free trial of this product for the sole purpose of review. All opinions are mine. For other reviews, please check out the Homeschool Crew Blog